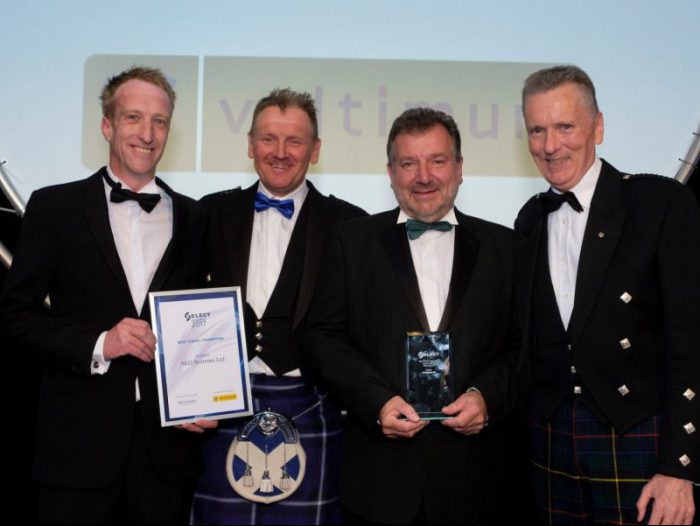 Electrical contractors AKD was mentioned in the Edinburgh Reporter earlier this week [November 11 2017], when business writer Isla MacFarlane wrote about our recent win at the SELECT Awards 2017.
She reported: "(The) Edinburgh-based electrical pioneer has won the Best Visual Promotion award at a ceremony hosted by SELECT, the campaigning trade body for the electro-technical industry in Scotland. AKD, also based in Glasgow and Crewe, won first prize for its distinctive logo and fleet livery, featuring brightly coloured cables and symbols.
Award-winning electrical contractors
Newell McGuiness, SELECT Managing Director, said: "The award category of Best Visual Presentation is relatively recent, but firms have shown just what they can do in terms of making themselves distinctive, informative and memorable.
"AKD's colour-coded message is easy to follow, intuitive and instructive with a common theme across its business. It is an object lesson in letting the customer know who you are and what you can do for them."
Alan Wilson, Head of Membership and Communications at SELECT, said: "AKD Systems has ensured that every customer who sees its website, company vehicles, staff or indeed office premises knows who they are dealing with.
"It has recently revitalised its website to allow stakeholders access to its projects and this has also helped make direct connections between the company and its customers.
"The simple yet very striking company logo illustrates perfectly who it is and most importantly what it does."
Read the original article below