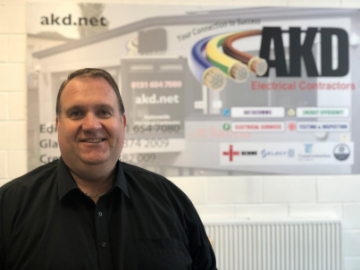 AKD are delighted to announce the appointment of Barry Hunter as a new director of the company.
Barry's promotion highlights the possibilities for ambitious AKD family members who are keen to progress their careers and play a strong role in the companies continued success.
Barry joined AKD as Commercial Manager in 2017, successfully expanding our Glasgow operation along with assisting in the day to day running of the company and his progression is a testament to his continued hard work and dedication alongside the firm's culture of personal and professional development.
"Becoming a director is an honour and a privilege, I am proud of the progress I've made and I'm looking forward to working further with existing clients to help them achieve their goals, whilst also creating new client relationships and supporting the growth aspirations of the firm," said Barry.
Managing Director Keith Groom said: "We welcome Barry's commitment to our continued success. Barry's appointment strengthens our Board moving forward and has taken our team of directors to four."