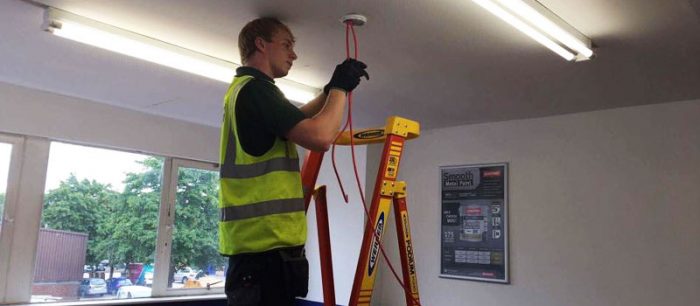 Fire detection and fire alarm installations
---
Fire detection and fire alarm installations help save lives and property.
The fire safety of your buildings depends on having the right equipment professionally installed, tested and maintained.
At AKD we can help you with the services you need. We work with all types of fire alarm systems in all sorts of premises, from shops to offices, schools, warehouses, supermarkets, as well as family homes.
Our services include:
Domestic smoke & heat detectors
Domestic smoke ventilation systems
Fire alarms for businesses and commercial premises
Fire alarm systems must be regularly checked and maintained to make sure they always comply with fire safety regulations.
Inspection and testing
The industry standard BS 5839-1 makes a number of recommendations.
Your system should be inspected and tested by a competent person monthly, every three months, every six months and/or every year.
AKD can provide this essential servicing and testing. It's a task we carry out for numerous firms and organisations across the country.
We have a comprehensive testing service that you can take advantage of by clicking here.
We know this is vital, so we're never complacent. We have the expertise and procedures to make sure your people and premises are kept safe at all times.
Contact us now to find out more:
Email: electrical@akd.net
Edinburgh: +44 (0)131 654 7080
Cheshire: +44 (0)1270 38 2009
Glasgow: +44 (0)141 374 2009